Orbital Welding System
Precision in the smallest space

Do you have special requirements regarding the strength and shape of your welds? Then we have the solution for you.
With the Swagelok M200 orbital welding system, you can work accurately and reliably in the smallest of spaces.
The result: Smooth welds of consistently high quality. Learn more about the Swagelok welding system Swagelok welding system
We are happy to take over the welding for you Inquiry Orbital welding service inquiry orbital welding service

We offer the following works:
Pipe to pipe | Pipe to fitting | Fitting to fitting | Fitting to valve | Valve to valve | Valve to pipe | manual welding and tacking
Our services:
Working in the tightest of spaces: clamping length 6.2 mm
Outside pipe diameter from 1/16" to 4" (2 mm to 114 mm)
Materials: Stainless steel 316/316L/6LV/6LVV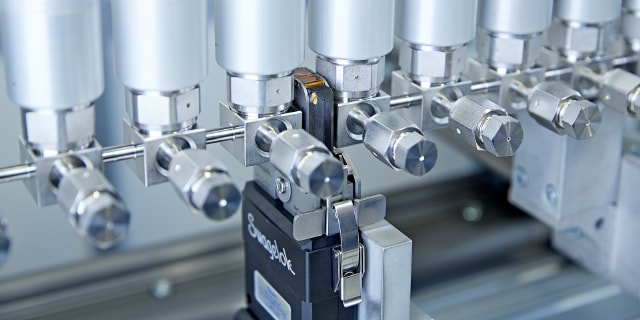 Orbital welding technology:
Orbital welding does not require any additional welding material such as a welding rod. This produces a particularly smooth and precise weld seam. Consistently high quality is guaranteed throughout the entire process. Orbital welding enables a definable repeat accuracy in production.