Sampling Systems
Also called Grab Sampling Module
Serves for the sampling of liquids or gases
Closed ring system provides process actual samples
Sampling systems GSM-L-2(-P) and GSM-G-1(-P)
Requirement
The Grab Sample Modules are sampling systems with cylinders for sampling liquids (GSM-L-2) or gases (GSM-G-1) into a sealed, pressurized vessel. Sampling in a closed ring system provides samples that are process actual and extracted and stored under the same process conditions that prevailed at the time of sampling, except for temperature.
Advantages
User safety, operation with only one control handle (gearbox = changeover valve)
High operational safety due to separation of operator level and fluid level
Immediately "ready to use" sampling system (standardized solution)
Features
Material: Stainless steel
Seals: PTFE to FFKM (Kalrez®)
Design pressure: up to 172 bar
Design temperature: up to 148°C
Connections: 6mm or ¼ inch
Sample vessel: stainless steel cylinder up to 1000 cm³
---
GSL-6 - Standard sampling for liquids with defined volume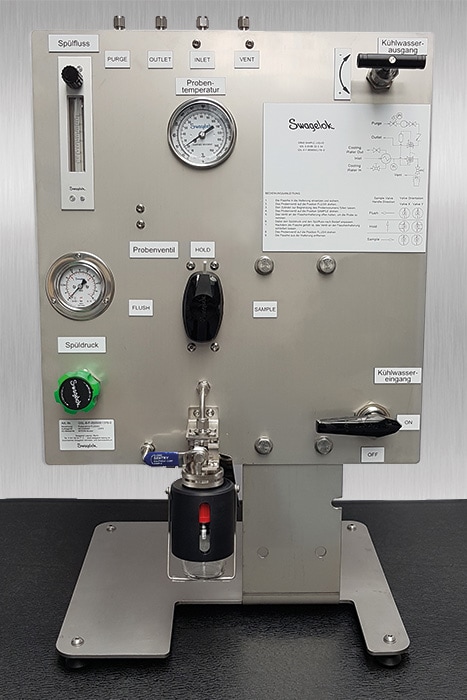 Requirement
The GSL module is a Grab Sample Liquid (GSL) sampling system for drawing liquids into a non-pressurized bottle. To transport the liquid without risk of spillage or evaporation, bottles with a self-sealing septum cap can be used.
Advantages
User safety, operation with only one control handle (gearbox = changeover valve)
High operational safety due to separation of operator level and fluid level
Immediately "ready to use" sampling system (standardized solution)
Features
Material: Stainless steel
Seals: PTFE to FFKM (Kalrez®)
Design pressure: up to 151 bar
Design temperature: up to 232°C
Connections: 6mm or ¼ inch
Sample vessel: bottle size up to 1000 cm³
Sample cooler: with 5 to 287°C and thermometer
You have a question or a specific requirement for a project, then send us your request by mail. You are also welcome to call us, we will be happy to advise you: 0341/945 471 0